Export Training
Ifeanyichukwu Okorie
Export Training for Great Entrepreneurs 
In this export training, you will gain fundamental knowledge, benefits of export business and why attending a good export training will be good for you.
Why Should You Start Exporting?
Individuals and small business are wise to tap into the booming export market. With many Africans living in overseas (USA, Belgium, UK, France, Germany, Denmark, Dubai, South Africa etc.), a huge potential market for African goods and services have grown up abroad.
If your firm has the right product or service, exporting can be a very attractive option. You should also take into consideration the fact that exporting is getting considerable boosts from federal and state governments because of present imbalances in international trade.
If you are considering export training that will expose you to working strategies and experience then check out the export training on how to start a profitable export business in Nigeria
10 Reasons You Should Attend Export Training
Good export training will offer you a practical approach to starting your expert business
Export training will expose you to experience and special skills you will need to succeed
You will take advantage of their try and error if you attending export training organized by a performing exporter
You will access advisory service and continue mentorship by attending export training
You will receive Manual and rich content DVD on Exporting to specific areas by attending export training
You will be informed on the best markets to channel your products by attending a good export training
Export training will showcase a wide range of real-life scenarios that readily occur and can help sharpen and prepare you to properly execute export from Nigeria.
During a good export training, you will be introduced to reputable and genuine agencies to work with especially for Export logistics, Haulage, Warehousing and freight forwarding.
Good export training will also offer follow-up after training to ensure successful export business.
Export training will offer you practical modalities for getting foreign buyers, initiating transactions and how to combine current employment with export business by outsourcing your export contracts.
Looking for an export training that offers you all you need to succeed in export business. Check out this 3 in 1 Combo Export Training (How To Start Export Business In Nigeria, Food Processing and Packaging, Digital Marketing Skills for Exporters)
Finding Target Market for Your Products and Services
Once you've decided to go into export business, the next thing to do is identify a market where to sell your products or services and where you can reasonably expect to turn a profit.
Your first list will probably have several countries on it, so you'll need to narrow it down to one or two markets that offer the most potential for success.
To do this, analyze the following characteristics of each market and try to determine whether they increase or decrease the market's potential:
How many potential customers are there likely to be?
What is the current demand?
Are there a lot of products already on the market that will compete with yours?
Can you match or beat the prices your competitors are charging?
Is the demand for your type of product likely to grow or shrink?
Are there cultural factors that may affect the marketability of your product?
Is the market industrializing rapidly? If so, can you develop new products to take advantage of this?
Online Methods for Finding Genuine International Buyers
The online method involves:
Building a credible online presence and portfolio
The use of online trade portals in locating trade leads posted on the internet indicating interest to purchase Nigerian products.
The use of emails to respond to such offers to buy Nigerian products.
Utilizing Social media platforms for your business
Taking advantages of local strategies
How the Internet Can Help Your Export Business
At this stage, I feel delighted to mention that the roles of the internet, especially in international business, cannot be overemphasized
It is the safest, fastest and cheapest means of communication.
You can freely source for the contact of interested buyers of any product.
Products can also be advertised to the whole world at a peanut if not for free.
Considering the above, therefore, the exporter must have a valid and functional email address and must know how to access it on the net, sending and receiving emails etc.
Useful Online Export Trade Directories
The most important step in establishing contact with foreign buyers in need of products of Nigerian origin is by signing up with any of the under listed trade directories
You can also search for more directories with the Google search engine at http://www.google.com.
How to Source Products for Export
Every exporter is strongly advised for their best financial interest to select products which they intend to export based on availability and accessibility.
The said export products should be procured from merchants who are based in rural areas where such products are either grown or produced. If the product is manufactured, hence the exporter should buy from the direct manufacturer.
The reason for the above exercise is such that the exporter could procure the export goods at a very cheaper price for profit maximization and also for the exporter to remain competitive in the international market.
With respect to the sensitiveness of export market requirements, prospective exporters are advised to source products from product merchant that understand the export market requirement of the commodity in question.
List of Exportable Products of Nigerian Origin
Nigeria's export policy is focused on the non-oil export sector which comprises the following categories:
AGRICULTURAL COMMODITIES

 

MANUFACTURED GOODS

 

 

SOLID MINERALS

 

 

PROCESSED FOODS
HANDICRAFTS

 

 

Cassava
Alcoholic beverages
Aqua marine
Ginger
Talking drums
Cashew nut
Baby clothes & other baby products
Bauxite
Garlic
Calabash carvings
Charcoal
Bottles (empty)
Columbite ore
Ukazi
Wood carvings
Chilies (Dried)
Billets
Calcium carbonate
Cassava flour
Raffia products
Cocoa beans
Chemicals
Coal
Garri
Metal carvings
Coffee
Carbon black
Gold
Locust beans
Hand woven textiles
Cotton lint
Cocoa butter
Galena
Yam flour
Beads
Cotton seed
Cocoa cake
Gypsum
Plantain flour
Pottery
Cow horns
Cocoa powder
Ges
Ground rice
Paintings (color & canvass)
Fish
Cocoa powder
Iron ore
Ground maize
 
Fruits
Cocoa liquor
Kaolin
Ground crayfish
 
Ginger
Confectioneries
Lead ore
Bitter leaf
 
Groundnut
Cosmetics & Soaps
Marble stone
Ground melon
 
Gum Arabic
Cylinders
Pyrite
Dehydrated vegetables
 
38
Detergents
Sapphire
Horticultural products
 
Kola nuts
Doors (wooden)
Tin
Okra
 
Poultry
Drilling equipment
Tin metal ingot
Mangetout
 
Rubber
Electrical wires
Tourmaline
Mangoes
 
Sesame seeds
Furniture components
38
 
 
Sheanuts
Filaments
Tantalite
 
 
Shrimps
Glass sheets
Wolframite
 
 
skins
Glycerin
Zinc alloy ingot
 
 
Snails
Hoof powder
Zinc ore
 
 
Tobacco
Insecticides
Zircon
 
 
Vegetable oil
Lubricants
 
 
 
Wheat pellets
Malt drinks
 
 
 
How to Calculate Product Export Price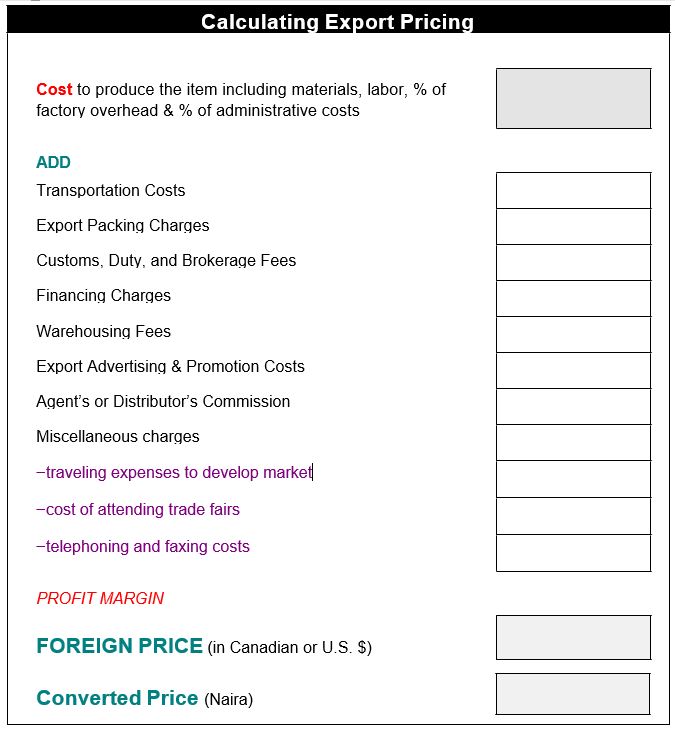 Export Product Packaging
It is important to note that there is no standard packaging method for an export product. The reason being that it is only the prospective importer that can specify the packaging method approved for a particular product in their country home.
Therefore, exporters must seek the consent of their buyer before packaging. As a matter of fact, the packaging requirement will be clearly stated in the export contract which must be strictly adhered to.
In practice, most agro and allied commodities meant for export could be packaged in JUTE or POLYPROPYLENE (PP)/ MESH bags. Commodities like charcoal could be packaged in BULK such that the product is tipped directly into the container without the need for any packaging material.
Coping with Logistics and Customs
Delivering your goods to a foreign customer is much more complicated than delivering them domestically. Even if you don't manage the process yourself, you should know how it works so you can build the appropriate expenses into your final quote to the customer.
Using freight forwarders
Freight forwarders specialize in moving goods around the world, and using one may save you a good deal of trouble and expense. You can hire these agencies merely to negotiate a rate with a carrier or, at the other end of the scale, have them do everything from arranging insurance to finding a reputable customs broker.
Using customs brokers
These are people who will clear your goods through customs. In most countries, a local, registered broker is the only person authorized to do this.
Providing documentation
Providing complete, accurate documentation of your shipment is vital. If anything is incorrect or lacking, your goods will not be allowed into the country until the deficiency is corrected.
The basic documents, required almost everywhere, include the following:
commercial invoice
packing list
certificate of origin
certificate of insurance
bill of lading (for sea or land transport) or an air waybill
certificates of inspection, if required
import licences, if required
Other documents may also be necessary, depending on the goods and local customs regulations. Your customs broker and/or the customer will give you the details.
5 Checklist for Having A Problem-Free Customs Clearance
Following the general rules below will help your exports reach your customer as quickly and easily as possible:
Complete all customs requirements before you ship the goods. Don't wait until they're at the border to discover that you've overlooked some vital document.
Make sure the customs documents are consistent with each other and complete in terms of quantities, descriptions and so on.
Make sure the customs documents exactly match what's in the shipment. Undocumented items can cause problems for your customer, such as lengthy delays at the local port of entry.
Be sure your goods comply with the standards, regulations and entry procedures of the target market. If they don't, your customer may not be able to bring them into the country.
Carry out due diligence before selecting a customs broker. If possible, choose a broker who deals with your type of product.
Ready to attend Export Training that will offer all you need to succeed?
Attend the export training organized by a reputable exporting company in Nigeria
The export training can help you every step of the way.
To find out more, call: +2349055805712 or visit: Export Business Combo Training.