Export Companies in Nigeria
Ifeanyichukwu Okorie
Export companies in Nigeria are responsible for exporting Nigerian export products to their desired destinations. Feco foods Industries limited is one of the performing export companies in Nigeria with focus on Nigerian food items and agro produce
Feco Foods Industries Limited is responsible for sourcing, processing, packaging, branding and exporting of Nigerian food items to African stores and restaurants.
As one of the leading export companies in Nigeria, we are engaged in integrated export business and product development. we have dedicated strategies for serving our overseas clients with good quality produces at the best competitive prices'.
We have dedicated strategies to collect produces from farmers, village markets, wholesalers and sort it for export as per specifications, pack and send it to Airport, or Sea port with no loss of TRANSIT TIME
List of Nigerian Food Items Export Companies
Feco Foods Industries Limited
We primarily handle processing and packaging of Nigerian food items such as those on African grocery store shelves, or ready for use by institutional buyers. We also handle primarily bulk agricultural commodities such as cashew nuts, groundnut, kola nuts, moringa seeds, shea butter, soya beans, sesame seeds, fruits, spices, palm kernel oil, palm kernel shells and other grains, oilseeds, and products.
Our major contribution to the export process is long experience in international trade, and many contacts with potential foreign buyers. As one of the performing export companies in Nigeria, we have been in export business over 8 years, and have principal traders with more than 11 years' experience.
Our export company has contacts with many foreign buyers, and purchase products from over 100 sources.
We seldom conduct formal market development. Relying on experience and extensive contacts with foreign buyers to produce products based on market requirements and consumer preferences.
As one of the performing export companies in Nigeria, we usually acquire goods from the suppliers, wholesalers and distributors. Process and package them based on customer's specifications and market requirements , prepares documentation, and ships to the foreign buyer.
Below are some of the export companies in Nigeria that focus on food export. Some of the companies also offer packaging services.
Tiger Foods Ltd
Address: 21/23 Onyebuchi Street, Awada Layout, Obosi, Anambra State, Nigeria
Voc Royal Resources Nigeria Limited
Address: 38, Denton Street, Oyingbo, Lagos Mainland, Lagos, Nigeria
De Luxe Flour
Address: 1, Afolabi Otegbade Crescent, Anthony Village, Oshodi Isolo, Lagos, Nigeria
Huge Resources Limited
Address: 65, Ikot Efa Street, Calabar, Calabar Municipal, Cross River, Nigeria
Shifol Bestway Food And Fisheries
Address: Block 249, Flat 5, Abesan Housing Estate, Ipaja, Alimosho, Lagos, Nigeria
Benliz Foods Packaging Ventures
Address: 3, Omobolaji Avenue, Odungunyan, Ikorodu, Lagos
Frosay Foods Limited
Address: 8, Elder Sampson Amadi Crescent, Eligbolo, Obio Akpor, Rivers, Nigeria
Soldua Poundo n Elubo Yam Flour
Address: 3, Otukpa Benue State, Ogbadibo, Benue, Nigeria
Noseta food Enterprise
Address:
List of Charcoal Export Companies in Nigeria
The following export companies in Nigeria have traceable charcoal export
Nuel Charcoal Exporter Nigeria Ltd
Address: 3 Prince Adeleke Adebayo Street, Oke-Afa, Isolo, Lagos State
Mojay Interlink Services Ltd
Address: 4/6 Martins Street, The Plaza Suite 100, First floor, Lagos Mainland
Selitoph Company Limited
Address: 228 Oron Road Oron, Akwa Ibom
Agrosure Africa Ltd
Address: 4, Armstrong Street, Odongunyan, Odagunyan, Ikorodu, Lagos
Joefel Nigeria Limited
Address: 25, Eleganza Plaza, Alaba Suru , Ojo, Lagos, Nigeria
Determination Nigerian Enterprises
Address: 1 kanden baushe, sheik jafar road, Gwale, Kano
Jm Solutions Global Concepts Limited
Address: 6, Adebanke Ajayi Street, Gbagada, Kosofe, Lagos
Tony Lee International And Company Limited
Address: 4, Otubu Street, Ogba, Agege, Lagos
Librazain Enterprises
Address: 19, Jogunosimi Street, Alausa, Ikeja, Lagos
Chamzan Ltd
Address: 38A, Okunola Aina, Mende Maryland, Kosofe, Lagos
List of Sesame Seeds Export Companies in Nigeria
The list below are export companies in Nigeria that major in sesame seeds
Geora Agro Nigeria Limited
Address: 4, Salami Street Afromedia, Ojo Local Government Area, Lagos State
Transise Enterprises Limited
Address: Zainab Crescent, Medina Estate, Gbagada Lagos.
ARS Rebus Trading Ltd
Address: 44B, Oladipo Bateye, G.R.A, Ikeja, Lagos, Nigeria
Ihechere Nigeria Enterprises
Address: 26, Nta Road, Ikwere, Port Harcourt, Rivers
El Miraka Nigeria Limited
Address: 60, Karimu Street, Ojuelegba, Surulere, Lagos
KingKay Agro Resources Nig. Ltd
Address: Business Center, Federal, Jalingo Road, Jalingo, Jalingo, Taraba
AhmediGrain Nigeria Ltd
Address: No: 82, Club Road, Kano Municipal, Kano Municipal, Kano
Baba Sesame Seeds and Oil Processing
Address: 13, Danjaji Street, Nnpc Road Leme Aboekuta, Nguru, Yobe
Abu Amad Limited
Address: 4, Aghahowa Lane, Ugbowo, Benin, Edo
Onyx Investment Limited
Address: 28, Segun Akinbuli Street, Bucknor Ejigbo, Oshodi Isolo, Lagos
List of Ginger Export Companies
Al Rasheed Group
Address: 26, Oladipo Kuku Street, Omole Phase 1, Ikeja, Lagos, Nigeria
Opifex Ventures Ltd
Address: 7, Mobolaji Ajibola Avenue, Ajah, Ibeju Lekki, Lagos
Greenweb International Resources Limited
Address: 1, Yola Road, Takum, Taraba
Kevylincoln Global Concept Limited
Address: 1, Lagos Street,Sabo-Gari, Gusau, Zaria, Kaduna
Aostintus Tradings Company
Address: 17, Aromire Street, Ademosun, Mushin, Lagos
Hac Seeds Enterprises Limited
Address: 59, Sarah Street, Ejigbo, Alimosho, Lagos
West Supply And Trading Limited
Address: Plot 1649, Olosa Street, Victoria Island, Eti Osa, Lagos
Wurasam Agric Export Limited
Address: Suite A2, God Is Able Plaza, 24 Road, Alao Bus Stop, Amuwo Odofin, Lagos
Descintext Nigeria Limited
Address: Suite A2, Bishop Howell Street, Games Village, Surulere, Lagos
Gerald Aguh Enterprises
Address: Km18, Og Palace Along Aarishi Road, Adebayero, Wuse, Abuja
List of Cashew Nuts Export Companies
The export companies in Nigeria listed below do cashew nut exportation
Goldmine Global Services Ltd
Address: 227 Ikorodu Road, Lagos, Lagos State
Dida and Muba Ventures Ltd
Address: 2/4 , Salamotu Eniola Street Sadiku
Ihechere Nigeria Enterprises
Address: 26, Nta Road, Ikwere, Port Harcourt, Rivers, Nigeria
Alternative Exports And Company
Address: 2, Abayomi Street, Oregun, Ikeja, Lagos, Nigeria
Mcdeal Ventures
Address: 1, Lewis Street, Dopemu, Agege, Lagos
Bolify Africa Ltd
Address: 2, Ede Street, Apapa Wharf, Apapa, Lagos
Agro Premium Commodities
Address: 23, Sunmola Street,Mende Maryland, Maryland, Kosofe, Lagos
Oranmba Global Company Ltd
Address: 13, Alhaja Kuburat Street, Sango Otta, Ado Odo/Ota, Ogun
Egbogu I.C Trading Ventures
Address: 39,ihodimeze road aba Abia state
Agro Export Nigeria Limited
Address: 165, Akowonjo Road, Egbeda, Alimosho, Lagos
List of Cassava Chips Export Companies
If you are looking for export companies in Nigeria that handle cassava chips, the you should consider the list below
Adakawa General Merchant Limited
Address: 28E, Ado Bayero Road, Faage, Fagge, Kano
Opifex Ventures Ltd
Address: 7, Mobolaji Ajibola Avenue, Ajah, Ibeju Lekki, Lagos
Hac Seeds Enterprises Limited
Address: 59, Sarah Street, Ejigbo, Alimosho, Lagos
Chia Agro Products
Address: 5, University Of Agriculture Road, North Bank, Makurdi, Benue
Wisdomkay Enterprises
Address: Aroje-Abaa Road Abepe Ogbomosho South Oyo
Isomac Global Resources Limited
Address: 7, station road, Township, Port Harcourt, Rivers
Eden Arc Nigeria Limited
Address: 26, Oyeleke Street, Alausa, Ikeja, Lagos
A Lawry B-Investment Limited
Address: 10B, Fredoka Street, Effurun, Uvwie, Delta
Jigov and Tb International Importer and Exporter (Nigeria) Limited
Address: Business Address: 32, Opebi Road, Opebi, Ikeja, Lagos
Morlap Farms Limited
Address: 2C, Oroki Road, Oyo Town, Oyo West, Oyo
List of Bitterkola Export Companies in Nigeria
Oju – Bash International Limited
Address: 25, Olushola Farobi Street, Anthony Village, Oshodi Isolo, Lagos
Triple E International Ltd
Address: 139, Apapa Road, Ebute Metta, Lagos Mainland, Lagos
Kp Heritage Limited
Address: 5, Daramola Street, Behind Afribank Headquarters, Lagos Island
Bio-Boye International Nigeria Limited
Address: 5, USC Street, Alabgado, Ifako Ijaiye, Lagos
Seadex Agro Allied International
Address: 23, Adekunle Street, Ikosi Ketu, Kosofe, Lagos
Multireejoy Global Venture
Address: 8, Owowinkokko Street, Abule Aja, Ifako Ijaiye, Lagos
Orchid Export Company
Address: Suite 3B, POWA Shopping Complex, Falomo, Iko, Ikoyi, Eti Osa, Lagos
Sunday And Sons Limited
Address: 8, Ogunyemi Lane, Sari Iganmu, Surulere, Lagos
Delson Impex Limited
Address: 24, Oyekola Shopping Complex, Ikotun Egbe, Oshodi Isolo, Lagos
Showtyme International Nigeria Limited
Address: 169, Ikorodu Road, Onipanu, Shomolu, Lagos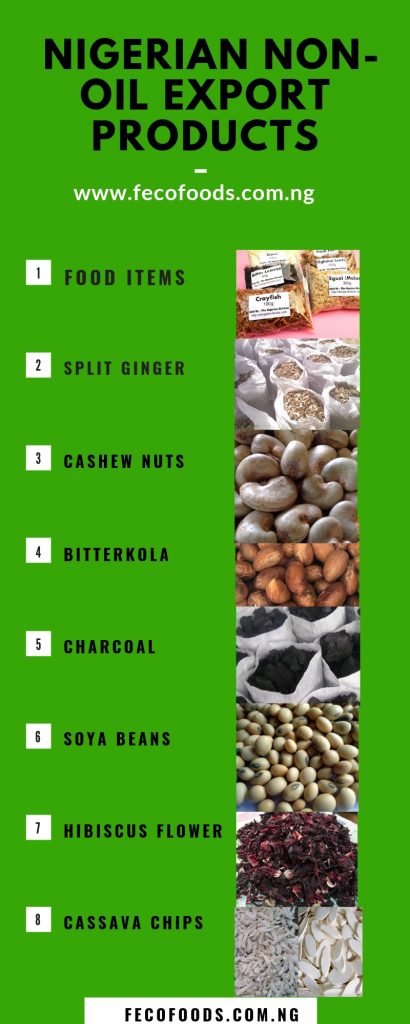 List of Hibiscus Flower Export Companies in Nigeria
Jamilu Umar Roja And Company Limited
Address: 4, Warshu Hospital Road, Bompai, Nasarawa, Kano
Sampaul Worldwide Limited
Address: Plot 7, Block 77, Cmd Road, Magodo, Kosofe, Lagos
Mida Strategic Nigeria Limited
Address: Suite 11, Jungle Plaza, African Church Road, Iju Ishaga, Ifako Ijaiye, Lagos
Olawaye Global Investment Nigeria Limited
Address: Blk 275, Flat 4, Abesan Estate, Ipaja, Alimosho, Lagos
Afritraders Commodity portal Ltd
Address: Wosina Place, 32 Road, Fesatc Town, Amuwo Odofin, Lagos
Wizetrend International Limited
Address: Plot 5, Abiodun Yesuf Street, Oniru, Eti Osa, Lagos
Toon Consolidated Company Limited
Address: 18, Taiwo Street, Ojota, Kosofe, Lagos
Benat Trading International Limited
Address: 8, Kokumo Estate, Alagbado, Ifako Ijaiye, Lagos
Ebube Chukwu BHT Ultimate Global Ventures Limited
Address: No 5, Omuchetu Road by AP Filling Station Omagwa, Omuolo Omagwa, Ikwerre, Rivers
Lemad Nigeria Ltd
Address: 28, Olusoga Street, Ilasamaja, Mushin, Lagos

List of Soya Beans Export Companies
Dochase Solutions Limited
Address: 4, Sokoto Road, Sabon Gari, Zaria, Kaduna
Bonaforis Nig Enterprises
Address: Frank saw-mill, Amansea junction Awka, Enugu-Onitsha Expressway, Awka North, Anambra
Satin Farms And Agricultural Services
Address: D7, Ayedoto Farm Settlement, Agric, Ojo, Lagos
Captiva Global Resources Limited
Address: 18, Moloney Street, Onikan, Lagos Island, Lagos
Afroniger Trading Company Limited
Address: 8, Sokoto Road, Kwangila, Zaria, Birnin Gwari, Kaduna
Efarmagro Enterprise Nigeria limited
Address: House 1, 2nd Avenue infi, Ajah lagos, Ado Badore Road, Eti Osa, Lagos
El Miraka Nigeria Limited
Address: 60, Karimu Street, Ojuelegba, Surulere, Lagos
Oranmba Global Company Ltd
Address: 13, Alhaja Kuburat Street, Sango Otta, Ado Odo/Ota, Ogun
Danjovicfam Ltd
Address: Hop 1, Kogi State University Stadium Road, Ayingba, Dekina, Kogi
Agro Premium Commodities
Address: 23, Sunmola Street,Mende Maryland, Maryland, Kosofe, Lagos
Always choose to work with performing export companies in Nigeria. Performing exporters will have experience to handle your job efficiently